When you choose LaVeine Sanitation, you choose dependability and flexibility.
Dependability
Laveine Sanitation will pick up your container as scheduled and without fail. Our reliable collectors are dedicated to customer service.
Flexibility
LaVeine Sanitation provides you the opportunity to select how frequently you need your trash removal services. We offer weekly, bi-weekly, twice a month and monthly pick up options. Need an extra pickup? No problem! Simply call and schedule a garbage pick-up or do so through the "My Account" link above, and we'll make an extra visit! Most of our customers elect to use our 95 gallon wheeled cart, though 300 gallon tubs are also available.
Winter Weather Pick-up policy
In the event of a snow or ice storm, the rural pick-up schedule could be effected. Routes may be redirected to hard surface roads first which could result in earlier pick up times than normal.  Make sure you have your container out by 6:00 am. We will complete the scheduled route when road conditions improve which could be the following day. If not picked up within two days, please contact the office.
Our first priority is the safety of our employees. People assume that since the collection vehicles are large they maneuver well in inclement weather. That is not true and actually quite the opposite.  These vehicles get stuck easily and can't stop either. Trucks are very expensive and towing charges are very high. Please be patient. We are committed to performing your pick up in a safe and timely manner.
Do's and Don'ts
Do:
Place container out by 6:00 am on your pick up day even if normal pick up time is usually later. The truck could be running earlier for a variety of reasons including: fewer pickups scheduled on that day's route, running the route in a different order due to inclement weather, road closures, etc.

Place container within 3 feet of the roadway when possible. Place your container on the opposite side of driveway from objects such as mailboxes, poles, etc.. There must be a minimum distance of 3 feet away from other cans or extra trash. We have to empty the container before we can pick up the extra.

Place container facing collection vehicle with lid closed as pictured below. Placing container backwards or incorrectly can result in not being serviced or incomplete emptying, spillage, or damage to container.

We recommend bagging with tied bags to keep container more sanitary and to prevent spilling and blowing of debris while emptying and transporting.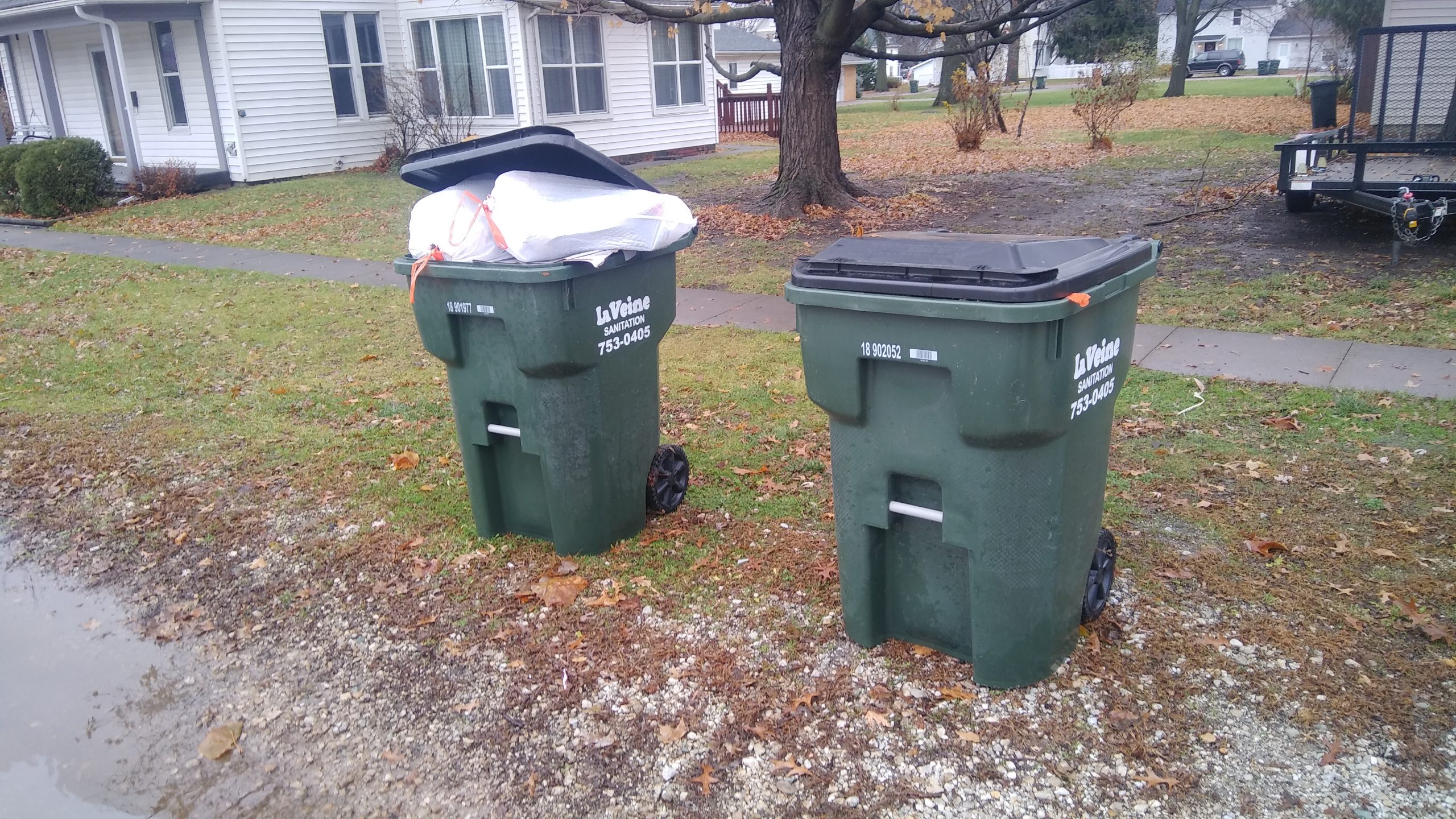 Don't
Place container out after 6:00 am. If pick-up is missed because of setting out late, you could be charged an additional fee for returning to pick-up.

Place container too far off roadway or too close to other objects. This could result in container not being emptied.

Overload container

Put unacceptable items in container such as appliances, TVs, tires, used oil, or non-dried paint cans. Doing so will result in additional fees and/or non-service.